The last pot
A downloadable game for Windows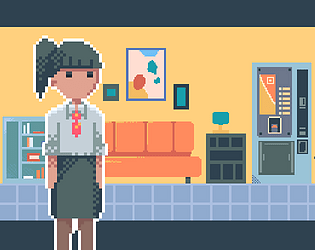 The game :
The last pot is a 2D pixelart narrative game. You play as Alyssia, the dreamed employee on her last day of duty in a company where she worked all her life. But beware of the calm water...
This short game was made during the ENJAM, from CNAM-ENJMIN (France, Angoulême) within 48 hours. The subject was "Party like there's no tomorrow".
Trigger warning : violence, gore.
Our team :
UX, Game designer
Jeremy Fongue (Demontoon)
Programmers
Guilhem Pech (DarylWinters)
Simon Gigant (Zebu)
Sound designer
Damien Drouillard (Apoal)
Project Manager
Antoine Thévenoux (Bourbabour)

2D artist
Charline Faure (Graouh)